Image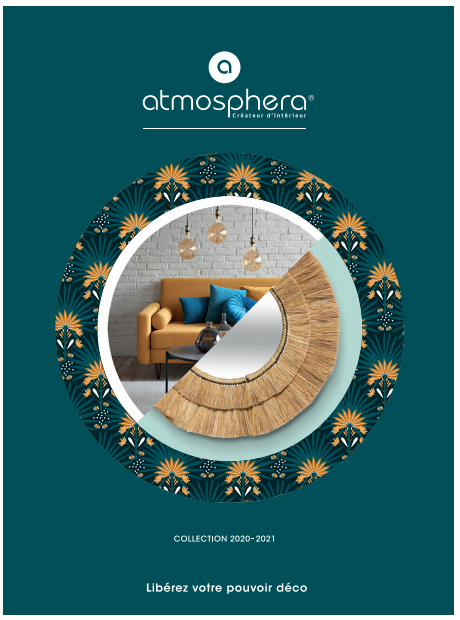 ATMOSPHERA ASSERTS ITSELF
Texte
NEW IDENTITY & BRAND CATALOG 2020-2021
Our Atmosphera home decor brand unveiled its brand new graphic identity in August!
This identity has been applied to the various media and, first and foremost, to the new 244-page brand catalog for 2020-2021.
For this fourth edition, the creative principle and content have been completely rethought so as to be more inspiring and clearer for our consumers: a distinctive artistic direction, decorating tips and segmentation by "life moments."
More than 800,000 copies of this brand catalog have been distributed to our partner distributors.  You can also learn about the interactive version (links to product sheets, slideshows, videos, etc.) on the website atmosphera.com.
WEBSITE
The atmosphera.com website has also been completely redesigned: a more detailed graphic charter, more elegant editorial line, more intuitive tree structure, etc.
The entire user path has been reworked to optimize site navigation and performance. Numerous areas dedicated to the history of Atmosphera and the famous "decorating tips" have been added by popular demand. Subscription to the brand's newsletters is, of course, always available so you can follow the news!
Finally, a web-to-store form has been set up so that our consumers can request to be contacted directly by our partner distributors.
ATMOSPHERIC CONCEPT
Our Atmosphera distribution network is made up of more than 250 partner distributors, true ambassadors of the brand. In their sales areas, dramatizations of the offer and product data sheets are used to present the products and their technical specifications.
In order to broaden our offer in these stores and to optimize the customer experience, a counter equipped with tablet computers is available to assist consumers in their purchasing process. In this way, they can learn about all the products, ask a salesperson for advice and find the Atmosphera catalogs.
INSTAGRAM
In order to create real interactions with our consumers, Atmosphera is very active on Instagram and we regularly invite our community to share opinions, photos and feedback!